An aligned life that designs
its success in all dimensions is an evolved one
SKC helps you create a higher form of life within you using 'best in the world' management,
leadership and ancient Indian science of 'Gyan-Yog'.
Physical & Economic success
Improved relationships, focus on health, increased productivity, prosperity, goal achievement, scaling up.
Emotional
success
Knowledge enhancement, skills to scale up, knowledge of 4 key pillars, improved decision making, enhanced thinking skills.
Mental
Success
Emotional consciousness, emotional stability, resolved conflicts, positive relations, life beyond compulsions.
Spiritual
Success
Joy and happiness, exuberance, focus on evolution, living life consciously, possibility of becoming divine and knowing "who am I".
CONSCIOUS ENTREPRENEURSHIP
Conscious
Entrepreneurship
ProgramTM (CEP)
Offering methods of well-being to entrepreneurs who understands that their success is possible only when everyone in their organisation is producing success.
Explore More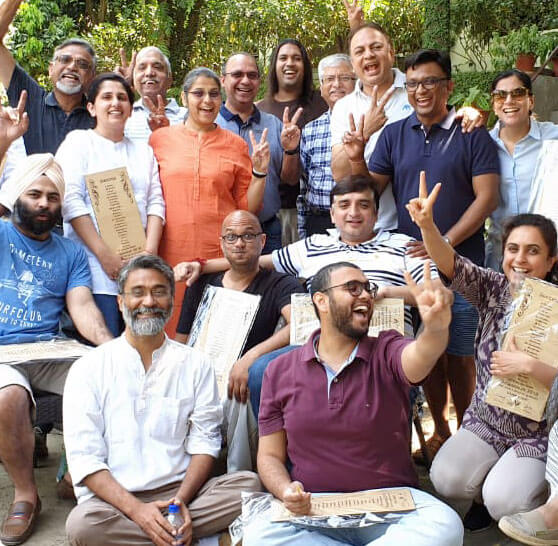 Anaavaran
A process of finding your true self, finding the Answer to "who am I" Through the ancient Indian science of Gyan Yog, this intense program takes only a handful of people in a batch for a year long journey.
Explore More
Sameer Kamboj
Sameer Kamboj is Conscious Entrepreneur and the founder of SKC.World, a company that aims to plant the seed of consciousness in entrepreneurship.
Read More
Shalini Kamboj
Shalini believes that the most supreme form of spirituality is our ability to question things. Individuals who cannot ask questions are incapable of finding answers.
Read More
Sameer Kamboj
Mentor & Co-Founder
Shalini Kamboj
Mentor & Co-Founder
Coaches
Help you Improving performance, overcoming compulsive habits, getting results
Chaitanya Kumar
Partner – People Excellence
& Coach
Akshay Chandra
Partner – Business Excellence
& Coach
Innovating Entrepreneurship through Consciousness
Philosophy
The foundational Philosophy of Sameer is that "Being Divine is a possibility, and exploration any less is mediocrity". Sameer inspires fellow humans to trust the principle of Abundance and achieve their highest potential.
About Sameer Kamboj
As a speaker, he has mesmerized hundreds of most successful leaders nonstop for long hours without wanting to go away.Sameer is the world's top authority on Conscious Entrepreneurship and the creator of Conscious Entrepreneurship Program for Business leaders, founders and CXOs, which is the next paradigm of Entrepreneurship in the world.He is a visionary who can ignite and strengthen a leaders' inner-self, enabling them to actualize their vision through harnessing their and others potential. Whether Sameer is keynoting an event, conducting sessions, or mentoring a business owner, he has mastered the special ability that unlocks and unleashes greatness in leaders at all levels. Thousands of business owners of small, medium, and large enterprises stand testimony to this.
His contributions to Conscious Entrepreneurship
Through his unique approach of combining Enterprise Science, emotional and inner consciousness with scaling up methodologies, he has repeatedly influenced leadership and corporate culture transformation.His innovative tools, assessments, and powerful envisioning sessions, have a visible ROI in the form of improved cash flows, productivity, engagement and scalability which has been witnessed by hundreds of Organizations, whose C-level professionals have been mentored by him.Organizations mentored by him continue to scale up across countries and cultures. An average growth rate of 30% year on year across industries is a usual sight. Such results are noticed across industries, cultures and belief systems.
He is on a Mission to 'touch a million lives'
He founded SKC World, a company that aims to plant the seed of consciousness in entrepreneurship. With two decades of experience, working as a mentor to 1000s of entrepreneurs, promoters, and C-Level Professionals of various small, medium and large companies of varied industries, he helps people become "Conscious Entrepreneurs". SKC World offers technologies for an integrated approach out of the intent of economic, mental, emotional & spiritual well-being, thus resulting in human well-being. SKC World is partners with Geneva Group International (GGI), Zurich which is the 6th ranked professional network in the world in line with PWC, Deloitte, E&Y, KPMG and BDO.
"Emotional consciousness is a stage beyond Emotional Intelligence. It is about mastering your life."
- Shalini Kamboj
Shalini believes that the most supreme form of spirituality is our ability to question things. Individuals who cannot ask questions are incapable of finding answers. She combines her knowledge of Psychology and Spirituality in a manner that is practical, simple, and easy.Shalini believes entrepreneurs are explorers and like to ask questions. They have the courage to innovate, construct, destroy, and recreate things. And, all these are the essential traits required for spirituality. Hence, in more than two decades of her work experience, she has worked with several entrepreneurs, corporate leaders, and people to help them master the science of scaling up in business and life, joyfully.

She is the co-founder of SKC World, Conscious Entrepreneurship, and co-author of the book "The Possibilities of Potential," which is evident of her style of making complex things extremely simple. Her involvement in an individual's life is always complete. She doesn't know how to live a partial life. She has designed the 'ANAAVARAN' program, which is Sadhana for humans to dive deep into their inner consciousness and emerge free and liberated.

The genesis of Anaavaran happened when the intense realities of life had hit Shalini upon being diagnosed with an auto-immune disease pertaining to sunlight intolerance shortening her life expectancy. She wondered how she was allergic to what is supposed to be nourishing for human life. This led her to start questioning everything in life. This is where Shalini's tryst with Spirituality began. She met people who were teaching Gyan-Marg. In the longer run, she had to start her journey alone without any support, and her only teacher being the one within her. As her Gyan-Marg practices matured, not only did her body start healing, her perspective towards life and things therein changed. She emerged as a much clear-headed and strong-willed human. After pursuing and mastering her practices for 15 consecutive years, Shalini was sure that the path she is strolling is the only answer to unlimited struggles of the human mind and life. As a result, she designed the Anaavaran program and started sharing it with people since the year 2015.

Shalini has always been a keen observer. She started engaging with people and figured out that one of the greatest sufferings of every human is that they can't see the beauty hidden in people. By offering the practices of Anaavaran, Shalini helps people to peel the layers of compulsive emotions and reveal their true as well as shining self.

Shalini's command over parenting is unique and different. While mentoring entrepreneurs in SKC programs, parenting forms one of the most significant parts of her discussion. Shalini understands that being successful as a parent becomes a dire need of human beings as they keep growing older. Besides being a parent, she is also a wife, founder, entrepreneur, and a master who seamlessly plays all her roles in an absolute state of joy and bliss. Someone who is approachable and is eager to share the science of Consciousness, she holds numerous copyrights to her name and is an author of multiple original works.

While coming from an ordinary Indian background, she has ensured the de-mystification of all dogmas and myths that surround spirituality. She considers the de-mystification necessary as spirituality is invisible to the naked eyes of laymen. According to Shalini, implementing and not explaining spirituality is the solution.

As the Chief Emotions Officer in SKC World, Shalini's role is to help people in shedding their negative emotions and fall in love with what they do. She does this by ensuring their well being and all-round growth. When it comes to discussing issues and conflicts in the workplace, she is a believer of the open-door policy. Shalini motivates people to be responsible for their own success, joy, scale, and evolution by taking charge of their own lives. She makes sure to foster an ambiance of acceptability and tough-love at the workplace, along with assigning clear roles to everyone and promoting communication amongst people. Ensuring work-life integration by facilitating people at work in such a way that they stop obsessing about their psychological needs also forms a significant part of her job. Doing so creates an avenue for people to focus on work in a relatively better fashion. She also helps entrepreneurs to develop a favorable work culture in their respective organizations. Using a non-jargonistic approach, running and scaling up an organization suddenly seems simple in her presence.