SKC-LMI
Effective Personal Productivity
Business owners, especially of small and medium businesses, usually reach a point of introspection after a few years running their business – Where do I go from here and how do I get there? This usually arises from the lack of a clear vision and goals that drive them, and consequently their organizations stagnate.
SKC's Effective Personal Productivity (EPP) is a five-month program to help small and medium sized business owners to be more productive, by mastering the art of managing Goals, Time and People. During the course of the program, SKC helps participants identify their vision, create goals to reach there, identify impediments to attain these goals, draft an approach to overcome these impediments and mechanisms to implement the approach.
The EPP program may be conducted organisation-wide too, if leaders understand the need to improve their people's productivity and effectiveness.
Request a Call Back
Sep 2020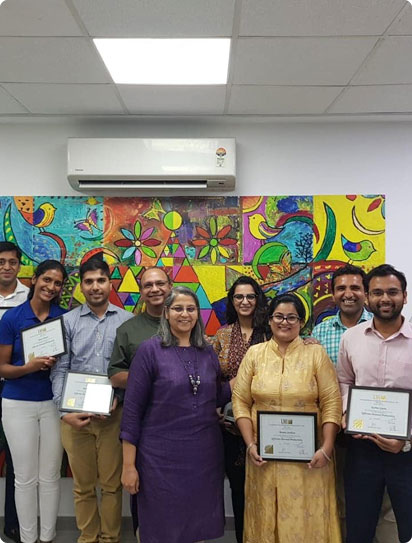 Goals & Desire
Management
People & Delegation
Skills
Clarity of Mind
and Priority
Clarity of Vision and Mission
of Life as well as Work
Crisis & Conflict
Management
Creation of
Effective Teams

Responsibility
and Accountability
EPP is a program for entrepreneurs to help them improve their productivity, their communication with their people, their relations with their family and lead a life of joy and success.
For Senior Leaders

For Small Entrepreneurs

For individual professionals

For Entrepreneurs and business owners who are looking to enhance their personal productivity and joy
SKC's EPP Upcoming Batch
EPP focuses on the personal productivity of top leadership and business owners. Duration: 5 Months, 10 Half–Day Sessions + 1 Individual Mentoring Session.
68, Ground Floor,
Okhla Phase 3,
New Delhi – 110020
Want to know more? Contact us
Fill out the form below and our team will reach out to you with current pricing, event details and registration info.
*Don't wait. Seats are filling fast!
Frequently Asked Questions
Dinika Bhatia
SKC is a pleasant DREAM that happened to me. I am blessed to have them as catalyst and drivers for my personal success. I look upto them for all my queries and concerns. To have them as our mentors and consultants makes me assured that "All is well". Keep inspiring and empowering us.
---
After long I have become calmer, spiritual part of the program has really helped me and my family. We are in a journey & everyone needs to experience this journey. My best wishes to this program & may this touch million lives.
---
Ajay Adlakha
Infinity Advertising Services
Who would have known by making some minor changes , by using simple techniques can pay such rich dividends! The tools and techniques learnt in this program will help you improve in all facets of life.
---
Surya Uday Bedi
It helped me to focus on my work and in my personal life and also helped to think positively. The class helped me to evaluate myself and I had taken steps to change myself wherever correction wants to be.
---
Karan Mehra
SKC has been a friend,philosopher and a guide in my journey through this useful programme. Thank you Shalini for being a mentor and Sameer for your support.
---
K.M. Pai